OBSERVING INTELLECTUAL DEVELOPMENT
---
Intellectual development is about the mind and how children make sense of their world.
 
Intellectual Development includes: 

Intellect or mind.
Cognition meaning to know.
Thinking and reasoning.
Knowledge and understanding.
Memory and learning.
Imagination and creativity.
Concentration and attention.
Problem Solving What happens if I press this button? How does a jigsaw puzzel fit together? Where do I wear a hat?
Perception through the senses - sight, sound, touch, taste, smell.
Concept Formation - hot and cold, big and little, under and over, time, colours, shapes, numbers, letters, weight, volume.
Children learn about their world in various ways.
$ Younger children use their senses to experience surroundings and objects as they look, listen, feel, smell and taste. Children have little sense of danger, so adults help their investigation by providing safe toys, everyday objects and places to explore.
( As children more acquire language they learn by asking questions. 2 year olds ask "What's that?" "Who's that?" 3 year olds ask "Where?" 4 year olds ask "Why?" "When?" and "How?" Children need language to promote intellectual development. Adults nurture their intellect by describing what is happening in the child's everyday world using simple words, answering the children's questions, listening attentively to the children and by encouraging speech by asking open questions for the children to answer.
& Children enjoy the fun of finding out and problem solving for themselves through creativity and imaginative play. It helps to have stimulating toys, books and to be involved in planning play activities.
! Imitation and repetition are effective ways to learn. Children use these strategies to repeat enjoyable actions and gain some success, to learn language by repeating sounds, in writing by copying the shapes of letters and words, in roleplay by copying adults and stories, and in morality by imitating the example of people who are significant to them. Adults are a role model for children.
Y Understanding basic concepts of colour, shape, letters, numbers, heat, light, gravity, living and non-living things, time and the meaning of right and wrong, is complicated but children learn through their own experience and by trial and error. When adults provide the opportunities to learn new skills and give support and encouragement so each child gains some success, they are providing perfect conditions to nurture intellectual development.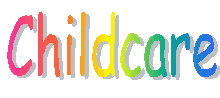 go home